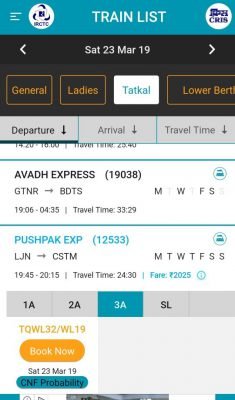 Booking a tatkal ticket in Indian Railways is a tough task .Excluding few trains, you hardly get few seconds to book your ticket .
Today I will share few points which will help you and increase your probability of getting confirm ticket.
While booking a tatkal ticket,even a single second is important…So, today I am going to save your those precious seconds.
All the points will be in detail so that you can follow those steps to book your tickets in no time.
Note:
Booking time of
AC class starts at 10:00AM
Sleeper class starts at 11:00 AM
A day before your journey .
Be careful, booking starts a day before the scheduled departure of the last charting station.
Lets starts with the points.
For IRCTC application
1.Add passenger details to master list.
Master list allows you to save all the passenger details (name, age,gender & berth preference) before planning any journey .
This saves your time while booking tatkal ticket and you are a single click away from entering all the details at a time. This is more useful when there are two or more passengers travelling together.
Lets see how to do this :
Step 1: Log in to your IRCTC account and select 3 lines option available at the left top of your screen .
Step 2: select Manage master list option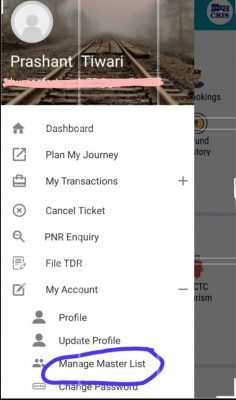 Step 3: Add passenger details and save it .
Step 4: After planning your journey when you reach at the page where you have to add the passenger details, the only thing you have to do is to select an option available at the top of your screen slightly towards right and select passengers .
2. Pay through Credit/Debit card instead of UPI .
Paying through UPI is a good option and profitable as well but while booking a tatkal ticket you need a faster option and paying through cards is slightly faster than paying through UPI .
It's more preferable if you opt for 3D secure password option instead of OTP at the time of transaction .
3. Login to your account 3–4 minutes before the time of tatkal booking .
Login to your account 3–4 minutes before and plan your journey by selecting source; destination, date of journey and train .
Now click on the subsequent class and wait till 10:00AM ( in case you are booking ticket in 3AC click on the SL class ).Now you are a single click away from your booking process .
As it sticks 10:00, click on your respective class and proceed for the booking.
These are the few major points which can save your time.
For Website:
All the above mentioned points are useful while booking ticket on website also .
Thank you for reading the answer.
For any suggestions, please comment below .
Do not refresh or press back button when transaction is in process.
I always go by TATKAL and the odds of confirmation are 99%
It's true and hassle-free if you go step by step.
Tatkal confirmation depends on three things
1.Entering the details
2.Internet speed
3.Bank server speed(not in your hands)
First of all, you need to go to my profile section and fill the details of passengers in the master list so that there is no need to enter again. (This should not be done from 0800 to 1100, fill the master list now itself along with the ID proof, and berth preference)
And second, always try to pay via UPI, be it Paytm, Gpay, Phone Pe or BHIM. You know which works better in terms of receiving SMS and all. I used to go through Phone Pe, but later shifted to BHIM due to prompt alerts.
As I have mentioned above that my confirmation chances are 99%, 1% failed due to bank server was down. Then I started to use Paytm at worse times. But still, I go for BHIM as I am just good in that. Paytm is optional but definitely a helpful partner when the bank cries.
Tatkal booking ain't so difficult, have good internet, fill the master list and be ready with UPI / reload the Paytm Wallet. But if the traffic is so high, then it will take a moment to generate the availability part. Once you get into the entering passengers' menu, I guess you can do the rest since traffic is very high till then.
P.S. no need to use Google Chrome or Mozilla extensions, you are booking a ticket, not buying a Redmi product on a flash sale.
PPS. Many faced difficulty in using IRCTC wallet, hence opt for UPI over Ewallet.
Update: Why don't you try booking through IRCTC connect app from play store, it's far better than booking through a web browser. It is optimized for mobile and hence consumes fewer data
Update 2: Dont flood the comments that so and so train between so and so distance that I cannot book and I fail often…blah blah blah. Dude, there are always some seats reserved for Tatkal. If I fail, someone else might be booking. They might have followed this strategy. So instead of flooding, go and book your tickets.